Wood Look Tile in Winchester, VA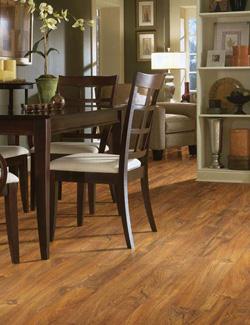 Give your home a new lease on life when you redecorate using smarter home flooring products. Our selection of flooring includes modern solutions that look great for years. When you need flooring that offers both performance and charm, the answer is wood look tile in Winchester, VA. This alternative flooring is a great choice because it is durable and can match the wood flooring you have chosen for other rooms. Find the flooring you need when you browse the expansive selection of floors at Flooring America Winchester.
While many immediately gravitate to our broad array of options for Hardwood Flooring, our designers consider the entire structure when suggesting a series of flooring options for your home. While wood floors are great in the dining room and den, we carry wood-look alternatives composed of ceramic and porcelain. Each tile is sealed with a photo layer that offers the look and texture of real wood species. You get the water resistance you need in the kitchen, along with a stunning look that others will notice.

Functional Flooring Options
Homeowners have been demanding tile flooring in their homes for centuries. Traditionally, ceramic tile is easier to cut into a variety of shapes. Porcelain is often used as a flooring option for outdoor places like patios. When you combine the appeal of wood and the density of porcelain, you get our wood plank porcelain tile.
Tell us more about the wood flooring you have in other rooms, and see how we match it with our wood plank ceramic tile. The manufacturer cuts this product into planks to match the general shape of other wood products throughout the home.

An Efficient Approach to Installation
Our flooring showroom has become a leading source of design assistance, great pricing on floors, and installation you can count on. With the right combination of flooring styles in each room, your home is sure to become more valuable on the open market.
Our selection of ceramic wood tile provides you with an array of options that perform when it matters. When you decorate with our porcelain wood tile, others are sure to ask you how you managed to make it work. The water resistance this product provides is dependent on proper grouting and sealing, so work with a team that arrives with the right tools for the job.


Contact us today for wood look tile that gives any room a unique look. We proudly serve customers in Winchester, Strasburg, Stephens City, and Middletown, Virginia, and Martinsburg, West Virginia, and surrounding communities.