Luxury Vinyl Planks in Winchester, VA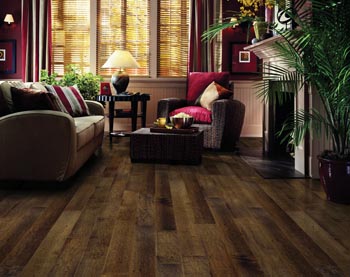 Revitalize your interior and boost the resale value of your home when you decorate with luxury vinyl planks in Winchester, VA. When you visit Flooring America Winchester, you are sure to find the right LVP for every room of your home.
There are a variety of products that offer the character and charm of solid hardwood in places like the bathroom and kitchen. When a client is decorating a kitchen or the master bathroom, they need a floor that is designed for rooms with higher levels of moisture. Luxury vinyl won't expand and contract with exposure to water like other flooring options. Cover more of your floor than ever before and get the performance you deserve.
Additionally, we support the client at every step of their design journey. From the moment you walk into our showroom, you get attentive design assistance and the flooring answers you need. We consider the structure as a whole when we make flooring recommendations. Every room presents a different set of challenges, so we recommend a flooring choice that fits the conditions you face. Our 5 Star Selection system offers the customer a higher degree of control. You can evaluate each floor covering and get the price protection guarantees and warranties you need to finish the job.
The Right Flooring for Each Room
Tell us more about the space you are decorating and your existing décor, and let our design team select a series of options for every situation. We are ready to match your current design plan with flooring that matches your existing décor. Our design team can solve the issue of expansion and contraction with the right luxury vinyl plank floor.
Luxury vinyl is crafted through a process that involves the application of a photo wear layer to a vinyl plank. The plank delivers the shape and texture of wood, with the added water resistance that comes from a vinyl tile.
Completing Your Project
The condition of your subfloor can make a big difference in the time involved with a remodeling project. Any damage that needs repair could delay your plan, so choose a project that can be installed over existing holes and your current flooring. When the time comes for luxury vinyl plank floor installation, your home will be ready.
A vinyl product is a smart choice for places like your basement and kitchen due to the water resistance and ease of installation, so you can complete your project on time. Purchase an LVP floor, and get the necessary functionality and appeal for a modern home.

Contact us today to identify luxury vinyl planks that fit your needs and your design plan. We proudly serve customers in Winchester, Strasburg, Stephens City, and Middletown in Virginia, and Martinsburg in West Virginia, and the surrounding communities.