Kitchen Remodeling in Winchester, VA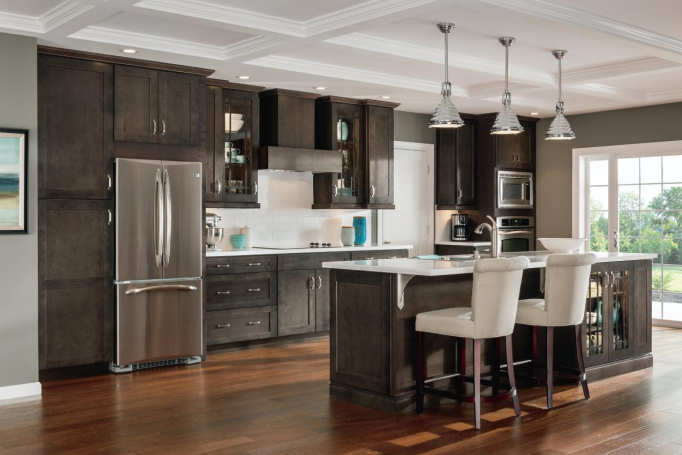 The kitchen is your home's heart and center, and you deserve to have it looking and performing at its very best. Enlist our crew in kitchen remodeling in Winchester, VA, and we'll show you how to take your interior design to new heights. We offer the services, resources, and materials you need to complete projects of all sizes. From drywall to carpentry, plumbing, and electrical work, we offer the services you need to update your kitchen. Thanks to our professional and reliable remodeling team, you'll have the space of your dreams.
While a house may be beautiful and well-maintained, an outdated kitchen might drag it down. The kitchen is one of the most-used and frequented spaces of almost any home, and visitors are sure to see it. Therefore, it makes sense to offer the best first impression possible.
Doing away with the old and bringing in a new, up-to-date design with energy-efficient appliances, plumbing, and lighting can send your property value to new heights. A new kitchen renovation today could mean a much better-asking price a few years from now, should you decide to sell.
Of course, a change of scenery can be a great improvement. Replace those old fixtures and freshen up your interior design with our kitchen remodeling solutions. Our showroom has samples of flooring, cabinets, and countertops from the trusted names in the industry. Mix and match to create a distinct motif. We'll work with you to match your ideas with a functional and beautiful interior.
Define Your Kitchen Makeover Experience
It's your property: design it how you want it. Our kitchen contractors give you control over the project. Have fun choosing countertops, cabinets, flooring, and other aspects of your new kitchen to make it magazine-worthy.
Since each component of your new interior is handpicked by you, you will attain a design theme that matches your distinct personality. The colors, textures, patterns, and styles are all opportunities to get creative and turn your outdated kitchen into a place you and your guests will visit and use.
As one of the most active spaces in your home, the kitchen should be built to last. To that end, we have teamed up with the well-known manufacturers to offer products that will add to the beauty, durability, and longevity of your interior. Our showroom offers the following kitchen remodeling and renovation staples:
Flooring: Successful projects begin from the ground up. Our showroom offers a diverse selection of different flooring products, giving you the looks and strength your kitchen needs for everyday use. Choose from ceramic, luxury vinyl, laminate, and more.
Cabinetry: Cabinets combine form and function to create a visually appealing storage solution. Our showroom offers custom cabinet services, allowing you to create unique layouts that will fit seamlessly with your interior design plans.
Countertops: Countertops are vital for safe food preparation--and they are a central component to your kitchen's overall aesthetic appeal. Enhance the eye-catching atmosphere of your kitchen with our selection of quartz and marble countertops.
Kitchen Makeovers by Design Experts
Define your vision--we'll realize it for you. Our full-service flooring and remodeling showroom also has a complete general contracting team. Together with our interior design consultants, we can create a space that you and your guests are sure to love for years to come. Visitors will love socializing in a stylish and unique space. With us handling your project, you will attain a better interior: a space in which preparing meals and spending quality time is a delight.
Our kitchen contractors are Class-A licensed general contractors. Also, we are bonded and insured, ensuring a commitment to quality and lasting results. Whatever your goals may be, we can meet them while making your kitchen a reflection of you as the homeowner. Each member of our renovation and remodeling team has extensive experience in the industry. As a result, we have the knowledge and expertise to bring the plans of your updated kitchen to life.
Now is your chance to have the kitchen you've always imagined. Let us know what materials and colors you'd like and our team will customize the plan according to your wishes. You get to do the fun part and enjoy the result while our kitchen contractors do the work to ensure it all fits together and everything has a place.
Work with a team you can trust. With us on the job, you can feel at ease. Our courteous and professional remodeling and renovation team work quickly and carefully, ensuring neat and orderly service while at your home. We coordinate our services to meet your specific schedule and budget, ensuring you get the right results.

Contact us to arrange a consultation for kitchen remodeling or renovation services. Our showroom proudly serves property owners throughout Winchester, VA, including Strasburg, Stephens City, and Middletown, as well as Martinsburg, WV, and the surrounding communities.