Complete Kitchen Remodeling in Winchester, VA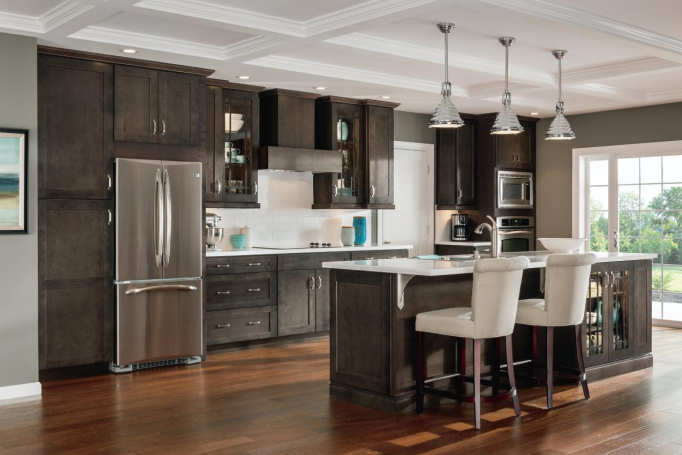 The kitchen is the heart of your home, and you deserve to have a space that is both functional and beautiful. At Flooring America (VA), we offer services to enhance your kitchen remodeling in Winchester, VA. From the floors to the ceilings and everything in between, our team handles all the work leaving you with a breathtaking kitchen. With an upgraded kitchen layout, meal preparation becomes less of a chore, and with new energy efficient appliances, you will save money on your power bills. On top of being more functional, a well-designed kitchen is also a standout area to look at. With exquisite custom cabinetry and countertops, beautiful new flooring, and custom lighting throughout, your new kitchen is sure to impress your guests.
Designing Your Kitchen Makeover
The most critical step when doing a kitchen renovation or remodel is coming up with a great design plan. Whether you know exactly what look you are trying to achieve or are unsure of what direction to take -- our team is here to help.
Our experienced designers are kitchen experts and work with you to carefully plan all aspects of your build plan. Three of the vital renovation aspects that we are equipped to assist with are:
Flooring: Successful remodeling projects begin from the ground up. Our showroom offers a varied selection of different flooring products, including ceramic tile, luxury vinyl, laminate, and more.
Cabinetry: Cabinets combine function and form to create a visually stunning storage solution. Our store offers custom cabinet design services, allowing you to create distinctive layouts that fit seamlessly with your kitchen remodeling goals.
Countertops: Countertops are vital for safe food preparation, and they are a significant element to your kitchen's overall visual appeal. Enrich the eye-catching atmosphere of your kitchen with our assortment of quartz and marble countertops.
With these aspects and others, your kitchen is remade to meet your design goals, significantly improving its look and usability. Visit our showroom to discuss your remodeling plans with us and explore our vast selection of products to find the right solutions for your design goals.
Exceptionally Well-Built Kitchens
When you choose our company for your remodel you are gaining access to our expert kitchen contractors. Our team has the necessary experience and tools to handle your entire build. We take care of everything from laying floors to installing appliances to building your custom cabinets and counters. This ensures that your entire remodel is completed to your high expectations and meets the design goals you set out. To learn more about our contracting services, reach out to our shop; our team is always happy to answer your questions.

Contact us when you are planning a remodel or renovation for your kitchen. We proudly serve Winchester, VA, and the surrounding areas.