Hardwood Flooring in Winchester, VA, Brings Natural Beauty to Your Interior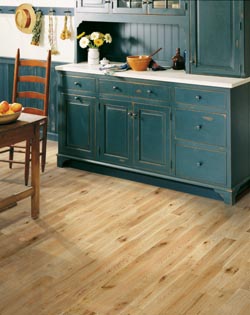 Give your home a warm and classic aesthetic with products from Flooring America Winchester. As your source for hardwood flooring in Winchester, VA, we empower visitors to realize their dreams of the perfect interior. With our wide-ranging product catalog, personalized approach to service, and exceptional installation service, you will have everything you need to re-floor your favorite spaces.
Our showroom is committed to providing a simple and seamless approach to remodeling projects. To that end, we invite you to take advantage of our free consultations. Our team members are knowledgeable and experienced in flooring, and we will work with you to find the right flooring that will meet your needs. From the initial consultation to installation, we are with you at each step of your remodeling project.
Hardwood Floors Are a Sound Investment
The timeless beauty of Nature is yours to behold when you choose hardwood floors. Solid hardwood planks are handsome, strong, and long-lasting. They hold up well against everyday foot traffic. When your interior remodeling goals call for a distinct ambiance and classical aesthetic appeal, you cannot go wrong with this flooring.
Another attractive feature of hardwood is its ease of maintenance. This flooring type has robust characteristics. As a solid surface, wood flooring will not stain easily. You may remove dirt and dust easily from this flooring. It is recommended to have your hardwood surfaces treated to sanding and refinishing every few years--which is a better alternative than investing in new flooring altogether.
An appealing characteristic of hardwood flooring is its variety. As a naturally sourced flooring material, hardwood is available in a variety of species, such as mahogany, oak, and pine. The distinct, unique grain patterns give your interior a one-of-a-kind look. In addition, these floors are available in a variety of stains and finishes. When choosing your ideal flooring, hardwood provides nearly limitless options that will make your remodeling adventure a rewarding experience.
Count on Us for Hardwood Flooring Installation
Hardwood is a high-end option that will add beauty and value to your property. Proper installation ensures your flooring will look great and last for decades. Let us handle your hardwood flooring installation so that you may enjoy your investment for years to come.
We have a team of professional flooring installers that have the training, skills, and expertise to handle projects of virtually any size. Our technicians work quickly and carefully to ensure you attain picture-perfect results. With us handling your project, you can feel at ease in knowing your new flooring will look great and serve you well for decades.




Contact us and arrange a consultation for hardwood flooring. We are located in Winchester, VA, and serve Strasburg, Stephens City, Middletown, Martinsburg, WV, and the surrounding areas.