Kitchen & Bath Cabinets in Winchester, VA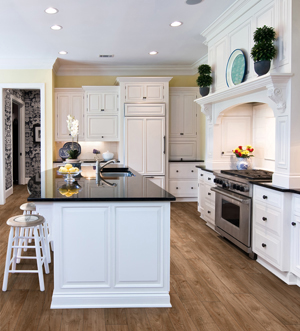 Are you searching for an all-new home addition that's as decorative as it is practical? Concerning remodeling efforts, cabinets often go overlooked. However, a lack of storage space is something many homeowners are all too familiar with. Cabinetry not only adds valuable storage space to any bathroom or kitchen that it's featured in, but it also enhances the aesthetic of the chosen space as well. Visit Flooring America Winchester for high-quality, custom cabinets in Winchester, VA.
Does storage space always seem to be at a premium in your home? There never seems to be enough places to put your belongings. However, that problem can be easily solved with an all-new cabinet installation in your kitchen or bathroom.
Kitchen cabinets are a downright necessity that add beauty and style one of the most widely used rooms in your house. Likewise, bathroom vanities are a standard feature and visual focal point. Ask our knowledgeable specialists at our local flooring showroom about our bathroom and kitchen makeovers. Schedule a free, in-home consultation with our design and sales professionals. At your request, we'll bring samples and take measurements to ensure your prospective cabinetry perfectly serves your every aesthetic and functional need.
Create Ample Storage with New Kitchen Cabinets
Kitchens are busy places with many demands. When it comes to storage, you must have room for pots and pans; dishes, utensils, and glasses; as well as foodstuffs and spices. This requires ample storage. Let us recommend custom cabinets that make the best use of the space in your kitchen and provide solutions for your storage problems.
Nothing takes the enjoyment out of preparing a nourishing meal for your loved ones like having to work with a lack of storage space. Without proper storage space, you can accidentally overcook a meal searching through poorly stored cooking tools and dishware. Instead of making a mess during meal preparation, avoid these frustrations by investing in new cabinet installation.
Our specialists can come to your home and assess your needs for storage space. We create cabinets that use the available space from floor to ceiling, as well as fill space that's not currently in use. We also design custom cabinetry to make the most efficient use of the space you have. Custom cabinetry can make a world of difference in the look and functionality of your kitchen.
Your Source for Decorative Bathroom Vanities
The vanity in your bathroom may be the most integral piece of your bathroom ensemble. You use it for washing and grooming many times each day. Request our specialists to explore the beautiful and practical possibilities of decorative bathroom cabinets in your space.
At your request, we'll gladly provide you with samples of our quality vanities from brand-name manufacturers. With so many choices in style, color, and material to choose, finding the right combination for your space may be a bit tricky. Fortunately, our dedicated specialists are always eager and willing to help you make the right decision for your cabinet installation. With our experience and product knowledge to guide you, you can be confident you're picking the right materials for your needs.
Custom Cabinets for Beauty & Efficiency
For the greatest aesthetic value and overall most efficient use of space, opt for custom cabinets in your kitchen or bathroom. Our professionals make a point to take precise measurements of the workspace and fill it with the custom features you long for. Having a place for all of your items eliminates clutter and opens up a small or otherwise busy space. Share your concerns or ideas with our attentive team, and our professionals will offer you practical suggestions from the number and placement of cabinets to the particular style and type, which includes the following:
Bedboard
Distressed
Flat
Inset
Louvered
Providing You with a Custom Cabinet Installation
Our commitment to our customers doesn't end once they've found suitable selections for their bathroom or kitchen makeovers. We consider it our duty to complete the process by installing your new cabinetry exactly as you expect. From colorful glazed finishes to tasteful wood grains, our team will provide you with a new feature that's sure to increase the appeal and functionality of your space. Simply share your ideas for custom cabinets with our skilled team members, and we'll make the appropriate accommodations.
Count on us for correct measurements that will ensure an accurate, speedy cabinet installation. By properly installing your new home features, you can be sure you're getting storage that's level and secure. Best of all, we're prepared to accommodate any last-minute changes. Nothing is too big or too small for our specialists to consider when it comes to earning your total satisfaction.
Cabinets that are designed well and built to specifications offer many years of beautiful and useful service. You can have the utmost confidence in knowing that our professionals have the skills and experience to make and install cabinets that are as handsome as they are functional.
To find out more about all of our custom home and office cabinets, call our flooring showroom to speak to one of our knowledgeable, friendly associates. We'll gladly provide you with shop samples so you'll know every detail about your prospective fabrication before we bring it to life in your home or office.
Contact our flooring showroom for custom cabinetry as decorative as it is practical. We proudly serve commercial and residential clients in Winchester, Strasburg, Stephens City, and Middletown, Virginia, as well as Martinsburg, West Virginia, and the surrounding areas.