Kitchen & Bath Cabinets in Winchester, VA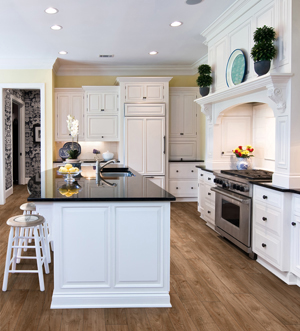 Storage space always seems to be at a premium in your home. There never seems to be enough. However, that problem is easily solved by installing or adding new cabinets to your kitchen or bathroom. Ask the professionals at our local store for help in selecting and installing your new cabinets.
Kitchen cabinets are a necessity, which add beauty and style to this popular room in your house. Likewise with bathroom vanities that are a standard feature and visual focal point for this space. Schedule a free, in-home consultation with our design and sales professionals. We bring samples and take measurements for your new cabinets.
Create Ample Storage with New Kitchen Cabinets
Kitchens are busy places with many demands placed on this space. When it comes to storage, you must have room for pots and pans; dishes, utensils, and glasses; and foodstuffs and spices. This requires ample storage. Let us recommend custom cabinets that make the best use of the space in your kitchen and provide solutions for your storage problems.
Our professionals can come to your home and assess your needs for storage. We make cabinets that use the available space from floor to ceiling, as well as fill space that is not in use. We also provide cabinets that are designed for specific uses, making efficient use of the space you have. What a difference custom cabinets make in the look and function of your kitchen.
Choosing Bathroom Vanities
The vanity in your bathroom may be the most important piece of furniture in this space. You use if for washing and grooming many times each day. To explore the possibilities for beauty and function, request the help of our design and sales professionals. Let us show you samples of quality vanities from brand-name manufacturers. There are so many choices in style, color, and material to choose from. With our experience and product knowledge to guide you, you can be confident of making the right decision.
Custom Cabinets for Beauty & Efficiency
For the best use of space and greatest aesthetic value, opt for custom cabinets for your kitchen or bathroom. Our professionals take precise measurements of the space and fill it with the storage you require. Having a place for all of your stuff eliminates clutter and opens up a small or busy space. Share your concerns and ideas with us and our professionals offer you practical suggestions from the number and placement of cabinets to the particular style and type, which includes the following.
Flat
Louvered
Inset
Shaker
Distressed
Beadboard
Thermofoil
Cabinet Installation for Years of Useful Service
Let us complete the process with professional cabinet installation. It is best to have one company involved in the sales and installation of your cabinets. This is because the measurements are so important. Count on us for correct measurements that ensure speedy installation. The proper installation of cabinets provides you with storage that is level and secure and shows to its best advantage.
We have built our flooring and cabinetry business on customer satisfaction. Feel confident that our professionals possess the skill and experience to make and install cabinets that as handsome as they are functional. Cabinets that are designed well and built to specifications give many years of beautiful and useful service. To find out more, call us at or use the form to the right.
Contact us today to remodel your kitchen or bathroom with custom cabinets. We proudly serve customers in Winchester, Strasburg, Stephens City, and Middletown, Virginia, and Martinsburg West Virginia, and the surrounding areas.